729 Danforth Ave., 405-8100

Directions: Take the Bloor-Danforth subway to Pape station. Beer Street is on Danforth Ave., just east of Pape Ave., on the south side.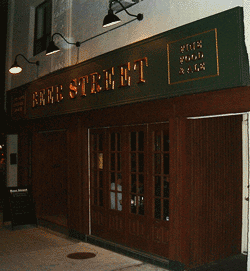 Beer Street, facing the Danforth. Tiny patio coming soon!

It is well-know within the Ontario beer community that the laws regulating brewpubs are quite strict and preventitive. One of the laws, now altered, said that brewpubs, desiring to open up a second location, had to purchase complete brewing equipment for each location. This made it very costly and preventitive for a brewpub to open up a second location, as new brewing equipment would have to be bought, installed and maintained at each pub.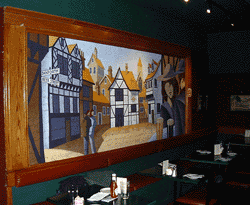 The Beer Street mural in the main dining area.

Luckily, this law has recently changed, and the Brewpub Act now allows a brewpub to open up a second establishment, and bring beer brewed at the first one to the second for serving. The Granite Brewery is the first Toronto brewpub to take advantage of the loosening regulations. Beer Street, which opened in December '99, is an intimate pub on the Danforth which serves the Granite's wonderful English-style ales on draught, brewed at their flagship location at Mount Pleasant and Eglinton in North Toronto.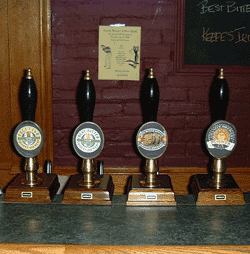 The cask-conditioned Peculiar, Best Bitter, Best Bitter Special and Summer Ale.

Beer Street's decor closely resembles that of the uptown Granite, but is much smaller and cozy. The menu is the same as the uptown location, with a wide range of snacks and entrees, in generous portions.

Beer Street serves all the Granite ales on tap, including Best Bitter, Best Bitter Special (dry-hopped), Keefe's Irish Stout, Ringwood Ale, Ringberry, Peculiar and IPA in the winter and Summer Ale during the warmer months. Their ales are very tasty, just as fresh at Beer Street as they are at their home uptown.

Beer Street is hopefully a sign of things to come on the Toronto brewpub scene. As the Ontario government eases the brewpub regulations, brewpubs like the Granite and others can take advantage of the new beer-friendly environment and thrive. Definitely check it out when on the Danforth.

Highly recommended.

Read the Bar Towel's review of the Toronto's original Granite Brewery.
About
Bar Towel
News
Breweries
Brewpubs
Good Pubs
Buying
Good Beer
Toronto
Pub Walks
Beer Reports
Forum